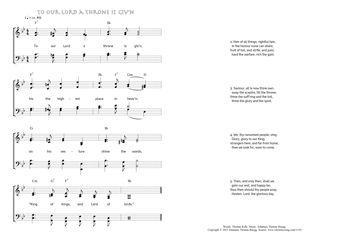 Christ My Song - 1191
To our Lord a throne is giv'n
(Thomas Kelly/Johannes Thomas Rüegg)
To our Lord a throne is giv'n.
"Sing praises to our King." (Psalm 47,6)
1. To our Lord a throne is giv'n,
his the highest place in heav'n;
on his vesture shine the words,
"King of kings, and Lord of lords." PDF - Midi
2. Heir of all things, rightful heir,
in the honour none can share;
fruit of toil, and strife, and pain,
hard the warfare, rich the gain.
3. Saviour, all is now thine own,
sway the sceptre, fill the throne;
thine the suff'ring and the toil,
thine the glory and the spoil.
4. We, thy ransomed people, sing,
Glory, glory to our King;
strangers here, and far from home,
thee we look for, soon to come.
5. Then, and only then, shall we
gain our rest, and happy be;
thus then should thy people pray,
Hasten, Lord, the glorious day.
Thomas Kelly, Hymns on various passages of Scripture, ca. 1853, Hymn 218.