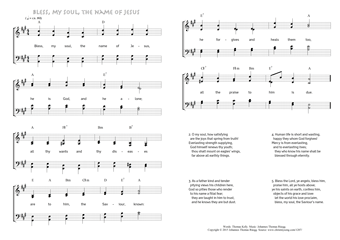 Christ My Song - 1207
Bless, my soul, the name of Jesus
(Thomas Kelly/Johannes Thomas Rüegg)
Bless, my soul, the name of Jesus.
"Bless the Lord, O my soul." (Psalm 103,1)
1. Bless, my soul, the name of Jesus,
he is God, and he alone;
all thy wants and thy diseases
are to him, the Saviour, known:
he forgives and heals them too,
all the praise to him is due. PDF - Midi
2. O my soul, how satisfying
are the joys that spring from truth!
Everlasting strength supplying,
God himself renews thy youth;
thou shalt mount on eagles' wings,
far above all earthly things.
3. As a father kind and tender
pitying views his children here,
God so pities those who render
to his name a filial fear;
they are taught in him to trust,
and he knows they are but dust.
4. Human life is short and wasting,
happy they whom God forgives!
Mercy is from everlasting,
and to everlasting lives;
they who know his name shall be
blessed through eternity.
5. Bless the Lord, ye angels, bless him,
praise him, all ye hosts above;
ye his saints on earth, confess him,
objects of his grace and love:
let the world his love proclaim,
bless, my soul, the Saviour's name.
Thomas Kelly, Hymns on various passages of Scripture, ca. 1853, Hymn 243.