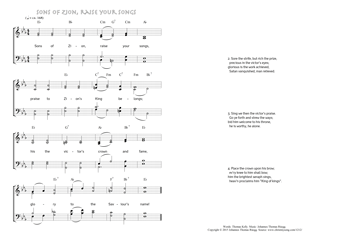 Christ My Song - 1212
Sons of Zion, raise your songs
(Thomas Kelly/Johannes Thomas Rüegg)
Sons of Zion, raise your songs.
"He hath triumphed gloriously." (Exodus 15,1)
1. Sons of Zion, raise your songs,
praise to Zion's King belongs;
his the victor's crown and fame,
glory to the Saviour's name! PDF - Midi
2. Sore the strife, but rich the prize,
precious in the victor's eyes;
glorious is the work achieved,
Satan vanquished, man relieved.
3. Sing we then the victor's praise.
Go ye forth and strew the ways;
bid him welcome to his throne,
he is worthy, he alone.
4. Place the crown upon his brow;
ev'ry knee to him shall bow;
him the brightest seraph sings,
heav'n proclaims him "King of kings".
Thomas Kelly, Hymns on various passages of Scripture, ca. 1853, Hymn 52.