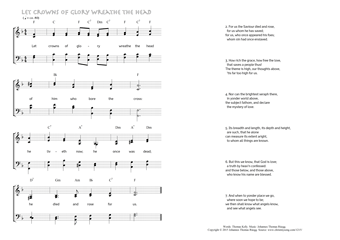 Christ My Song - 1215
Let crowns of glory wreathe the head
(Thomas Kelly/Johannes Thomas Rüegg)
Let crowns of glory wreathe the head.
"And on his head were many crowns." (Revelation 19,12)
1. Let crowns of glory wreathe the head
of him who bore the cross:
he liveth now; he once was dead;
he died and rose for us. PDF - Midi
2. For us the Saviour died and rose,
for us whom he has saved;
for us, who once appeared his foes;
whom sin had once enslaved.
3. How rich the grace, how free the love,
that saves a people thus!
The theme is high, our thoughts above,
'tis far too high for us.
4. Nor can the brightest seraph there,
in yonder world above,
the subject fathom, and declare
the mystery of love.
5. Its breadth and length, its depth and height,
are such, that he alone
can measure its extent aright,
to whom all things are known.
6. But this we know, that God is love;
a truth by heav'n confessed:
and those below, and those above,
who know his name are blessed.
7. And when to yonder place we go,
where soon we hope to be;
we then shall know what angels know,
and see what angels see.
Thomas Kelly, Hymns on various passages of Scripture, ca. 1853, Hymn 39.