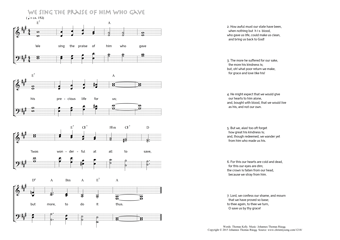 Christ My Song - 1218
We sing the praise of him who gave
(Thomas Kelly/Johannes Thomas Rüegg)
We sing the praise of him who gave.
"Ye are not your own." (1 Corinthians 6,19)
1. We sing the praise of him who gave
his precious life for us;
'twas wonderful at all to save,
but more, to do it thus. PDF - Midi
2. How awful must our state have been,
when nothing but his blood,
who gave us life, could make us clean,
and bring us back to God!
3. The more he suffered for our sake,
the more his kindness is;
but, oh! what poor return we make,
for grace and love like his!
4. He might expect that we would give
our hearts to him alone,
and, bought with blood, that we would live
as his, and not our own.
5. But we, alas! too oft forget
how great his kindness is;
and, though redeemed, we wander yet
from him who made us his.
6. For this our hearts are cold and dead,
for this our eyes are dim;
the crown is fallen from our head,
because we stray from him.
7. Lord, we confess our shame, and mourn
that we have proved so base;
to thee again, to thee we turn,
O save us by thy grace!
Thomas Kelly, Hymns on various passages of Scripture, ca. 1853, Hymn 240.