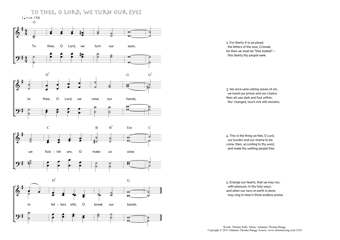 Christ My Song - 1224
To thee, O Lord, we turn our eyes
(Thomas Kelly/Johannes Thomas Rüegg)
To thee, O Lord, we turn our eyes.
"And the truth shall make you free." (John 8,32)
1. To thee, O Lord, we turn our eyes;
to thee, O Lord, we raise our hands;
we foolish are, O make us wise;
in fetters still, O break our bands. PDF - Midi
2. For liberty it is we plead;
the fetters of the soul, O break;
for then we shall be "free indeed" –
this liberty thy people seek.
3. We once were willing slaves of sin,
we loved our prison and our chains;
then all was dark and foul within;
tho' changed, much evil still remains.
4. This is the thing we feel, O Lord,
our burden and our shame to be;
come, then, according to thy word,
and make thy waiting people free.
5. Enlarge our hearts, that we may run,
with pleasure, in thy holy ways;
and when our race on earth is done,
may sing in heav'n thine endless praise.
Thomas Kelly, Hymns on various passages of Scripture, ca. 1853, Hymn 411.