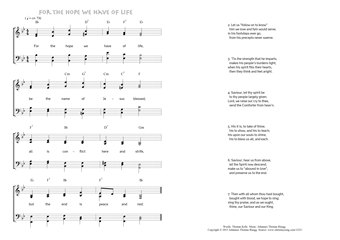 Christ My Song - 1225
For the hope we have of life
(Thomas Kelly/Johannes Thomas Rüegg)
For the hope we have of life.
"For in thee, O Lord, do I hope." (Psalm 38,15)
1. For the hope we have of life,
be the name of Jesus blessed;
all is conflict here and strife,
but the end is peace and rest. PDF - Midi
2. Let us "follow on to know"
him we love and fain would serve;
in his footsteps ever go,
from his precepts never swerve.
3. 'Tis the strength that he imparts,
makes his people's burdens light;
when his spirit fills their hearts,
then they think and feel aright.
4. Saviour, let thy spirit be
to thy people largely given.
Lord, we raise our cry to thee,
send the Comforter from heav'n.
5. His it is, to take of thine;
his to show, and his to teach;
his upon our souls to shine,
his to bless us all, and each.
6. Saviour, hear us from above,
let the Spirit now descend;
make us to "abound in love",
and preserve us to the end.
7. Then with all whom thou hast bought,
bought with blood, we hope to sing;
sing thy praise, and as we ought,
thine, our Saviour and our King.
Thomas Kelly, Hymns on various passages of Scripture, ca. 1853, Hymn 412.