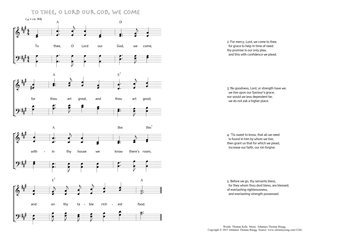 Christ My Song - 1226
To thee, O Lord our God, we come
(Thomas Kelly/Johannes Thomas Rüegg)
To thee, O Lord our God, we come.
"The Lord shall bless thee out of Zion." (Psalm 128,5)
1. To thee, O Lord our God, we come,
for thou art great, and thou art good;
within thy house we know there's room,
and on thy table richest food. PDF - Midi
2. For mercy, Lord, we come to thee,
for grace to help in time of need:
thy promise is our only plea,
and this with confidence we plead.
3. No goodness, Lord, or strength have we;
we live upon our Saviour's grace;
nor would we less dependent be;
we do not ask a higher place.
4. 'Tis sweet to know, that all we need
is found in him by whom we live;
then grant us that for which we plead,
increase our faith, our sin forgive.
5. Before we go, thy servants bless,
for they whom thou dost bless, are blessed;
of everlasting righteousness,
and everlasting strength possessed.
Thomas Kelly, Hymns on various passages of Scripture, ca. 1853, Hymn 388.