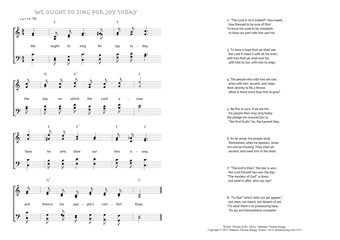 Christ My Song - 1233
We ought to sing for joy today
(Thomas Kelly/Johannes Thomas Rüegg)
We ought to sing for joy today.
"But I will see you again, and your heart shall rejoice."
(John 16,22)
1. We ought to sing for joy today,
the day on which the Lord arose;
'twas he who bore our sins away,
and thence his people's comfort flows. PDF - Midi
2. "The Lord is ris'n indeed!" How sweet,
how blessed to be sure of this!
To know his work to be complete;
to have our part with him and his.
3. To have a hope that we shall see
the Lord in heav'n with all his train;
with him that we shall ever be;
with him to live, with him to reign.
4. The people who with him are one,
arise with him, ascend, and reign;
their destiny to fill a throne.
What is there more than this to give?
5. All this is ours, if we are his;
his people then may sing today:
the pledge his resurrection is,
"the first-fruits" he, the harvest they.
6. As he arose, his people shall
themselves, when he appears, arise:
not one be missing. They shall all
ascend, and meet him in the skies.
7. "The end is then;" the day is won;
the Lord himself has won the day.
"The mystery of God" is done;
but what is after, who can say?
8. 'Tis that "which doth not yet appear;"
not seen, not heard, not dreamt of yet.
'Tis what there's no possessing here;
'tis joy and blessedness complete.
Thomas Kelly, Hymns on various passages of Scripture, ca. 1853, Hymn 460.