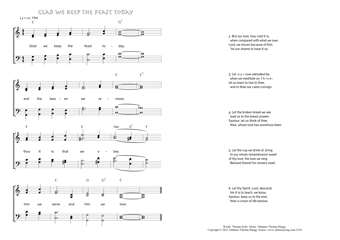 Christ My Song - 1234
Glad we keep the feast today
(Thomas Kelly/Johannes Thomas Rüegg)
Glad we keep the feast today.
"Let us keep the feast." (1 Corinthians 5,8)
1. Glad we keep the feast today,
and the leaven we remove;
thus it is that we obey
him we serve and him we love. PDF - Midi
2. But our love, how cold it is,
when compared with what we owe;
Lord, we mourn because of this;
'tis our shame to have it so.
3. Let our love rekindled be,
when we meditate on thine;
let us learn to live to thee,
and to thee our cares consign.
4. Let the broken bread we see
lead us to the bread unseen.
Saviour, let us think of thee,
thee, whose love has wondrous been.
5. Let the cup we drink of, bring
to our minds remembrance sweet
of thy love, the love we sing.
Blessed theme! for sinners meet.
6. Let thy Spirit, Lord, descend;
his it is to teach, we know.
Saviour, keep us to the end,
then a crown of life bestow.
Thomas Kelly, Hymns on various passages of Scripture, ca. 1853, Hymn 458.