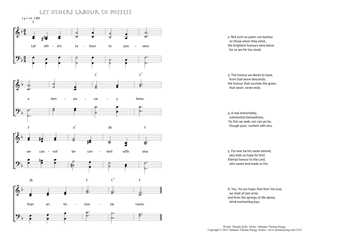 Christ My Song - 1235
Let others labour to possess
(Thomas Kelly/Johannes Thomas Rüegg)
Let others labour to possess.
"Now they do it to obtain a corruptible crown,
but we an incorruptible." (1 Corinthians 9,25)
1. Let others labour to possess
a temporary fame,
we cannot be content with less
than an immortal name. PDF - Midi
2. Not such as poets can bestow
on those whom they extol;
the brightest honours here below
for us are far too small.
3. The honour we desire to have,
from God alone descends;
the honour that survives the grave,
that never, never ends.
4. A real immortality,
substantial blessedness,
'tis this we seek, nor can we be,
though poor, content with less.
5. For ever be his name adored,
who bids us hope for this!
Eternal honour to the Lord,
who saved and made us his.
6. Yes, 'tis our hope, that thro' his love,
we shall at last arise,
and from the springs of life above,
drink everlasting joys.
Thomas Kelly, Hymns on various passages of Scripture, ca. 1853, Hymn 116.