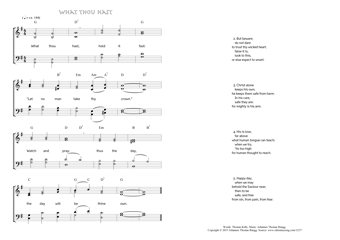 Christ My Song - 1237
What thou hast (Thomas Kelly/Johannes Thomas Rüegg)
What thou hast.
"Behold, I come quickly: hold that fast which thou hast,
that no man take thy crown."(Revelation 3,11)
1. What thou hast,
hold it fast:
"Let no man take thy crown."
Watch and pray:
thus the day,
the day will be thine own. PDF - Midi
2. But beware;
do not dare
to trust thy wicked heart.
false it is;
look to this,
or else expect to smart.
3. Christ alone
keeps his own;
he keeps them safe from harm.
In his care,
safe they are:
for mighty is his arm.
4. His is love,
far above
what human tongue can teach;
when we try,
'tis too high
for human thought to reach.
5. Happy day,
when we may
behold the Saviour near;
then to be
safe, and free
from sin, from pain, from fear.
Thomas Kelly, Hymns on various passages of Scripture, ca. 1853, Hymn 630.