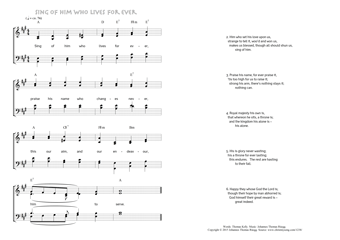 Christ My Song - 1238
Sing of him who lives for ever
(Thomas Kelly/Johannes Thomas Rüegg)
Sing of him who lives for ever.
"I live for ever." (Deuteronomy 32,40)
1. Sing of him who lives for ever,
praise his name who changes never,
this our aim, and our endeavour,
him to serve. PDF - Midi
2. Him who set his love upon us,
strange to tell it, woo'd and won us,
makes us blessed, though all should shun us,
sing of him.
3. Praise his name, for ever praise it,
'tis too high for us to raise it;
strong his arm, there's nothing stays it;
nothing can.
4. Royal majesty his own is,
that whereon he sits, a throne is;
and the kingdom his alone is –
his alone.
5. His is glory never wasting;
his a throne for ever lasting;
this endures. The rest are hasting
to their fall.
6. Happy they whose God the Lord is;
though their hope by man abhorred is;
God himself their great reward is –
great indeed.
Thomas Kelly, Hymns on various passages of Scripture, ca. 1853, Hymn 231.