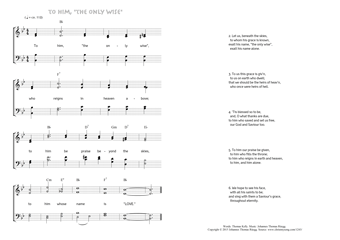 Christ My Song - 1243
To him, "the only wise"
(Thomas Kelly/Johannes Thomas Rüegg)
To him, "the only wise".
"The only wise God." (1 Timothy 1,17)
1. To him, "the only wise",
who reigns in heaven above;
to him be praise beyond the skies,
to him whose name is "LOVE." PDF - Midi
2. Let us, beneath the skies,
to whom his grace is known,
exalt his name, "the only wise",
exalt his name alone.
3. To us this grace is giv'n,
to us on earth who dwell;
that we should be the heirs of heav'n,
who once were heirs of hell.
4. 'Tis blessed so to be,
and, O what thanks are due,
to him who saved and set us free,
our God and Saviour too.
5. To him our praise be given,
to him who fills the throne;
to him who reigns in earth and heaven,
to him, and him alone.
6. We hope to see his face,
with all his saints to be;
and sing with them a Saviour's grace,
throughout eternity.
Thomas Kelly, Hymns on various passages of Scripture, ca. 1853, Hymn 237.