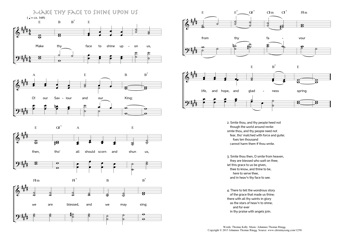 Christ My Song - 1250
Make thy face to shine upon us
(Thomas Kelly/Johannes Thomas Rüegg)
Make thy face to shine upon us.
"Cause thy face to shine." (Psalm 80,3)
1. Make thy face to shine upon us,
O! our Saviour and our King;
then, tho' all should scorn and shun us,
we are blessed, and we may sing;
from thy favour
life, and hope, and gladness spring. PDF - Midi
2. Smile thou, and thy people heed not
though the world around revile:
smile thou, and thy people need not
fear, tho' matched with force and guile;
foes ten thousand
cannot harm them if thou smile.
3. Smile thou then, O smile from heaven,
they are blessed who wait on thee;
let this grace to us be given,
thee to know, and thine to be,
here to serve thee,
and in heav'n thy face to see.
4. There to tell the wondrous story
of the grace that made us thine;
there with all thy saints in glory
as the stars of heav'n to shine;
and for ever
in thy praise with angels join.
Thomas Kelly, Hymns on various passages of Scripture, ca. 1853, Hymn 403.