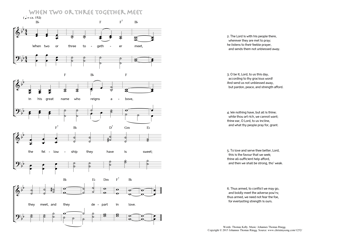 Christ My Song - 1252
When two or three together meet
(Thomas Kelly/Johannes Thomas Rüegg)
When two or three together meet.
"Where two or three are gathered together in my name,
there am I." (Matthew 18,20)
1. When two or three together meet,
in his great name who reigns above,
the fellowship they have is sweet;
they meet, and they depart in love. PDF - Midi
2. The Lord is with his people there,
wherever they are met to pray;
he listens to their feeble prayer,
and sends them not unblessed away.
3. O be it, Lord, to us this day,
according to thy gracious word!
And send us not unblessed away,
but pardon, peace, and strength afford.
4. We nothing have, but all is thine;
while thou art rich, we cannot want;
thine ear, O Lord, to us incline,
and what thy people pray for, grant.
5. To love and serve thee better, Lord,
this is the favour that we seek;
thine all-sufficient help afford,
and then we shall be strong, tho' weak.
6. Thus armed, to conflict we may go,
and boldly meet the adverse pow'rs;
thus armed, we need not fear the foe,
for everlasting strength is ours.
Thomas Kelly, Hymns on various passages of Scripture, ca. 1853, Hymn 387.