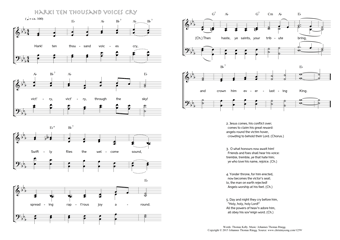 Christ My Song - 1259
Hark! ten thousand voices cry
(Thomas Kelly/Johannes Thomas Rüegg)
Hark! ten thousand voices cry.
"Death is swallowed up in victory." (1 Corinthians 15,54)
1. Hark! ten thousand voices cry,
vict'ry, vict'ry, through the sky!
Swiftly flies the welcome sound,
spreading rapt'rous joy around.
Chorus:
Then haste, ye saints, your tribute bring,
and crown him everlasting King.
2. Jesus comes, his conflict over;
comes to claim his great reward:
angels round the victim hover,
crowding to behold their Lord. (Chorus.) PDF - Midi
3. O what honours now await him!
Friends and foes shall hear his voice:
tremble, tremble, ye that hate him;
ye who love his name, rejoice. (Ch.)
4. Yonder throne, for him erected,
now becomes the victor's seat;
lo, the man on earth rejected!
Angels worship at his feet. (Ch.)
5. Day and night they cry before him,
"Holy, holy, holy Lord!"
All the powers of heav'n adore him,
all obey his sov'reign word. (Ch.)
Thomas Kelly, Hymns on various passages of Scripture, ca. 1853, Hymn 27.