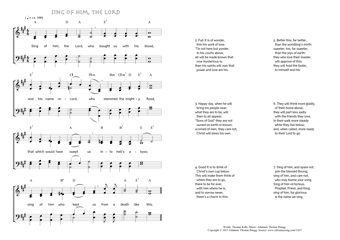 Christ My Song - 1267
Sing of him, the Lord, who
(Thomas Kelly/Johannes Thomas Rüegg)
Sing of him, the Lord.
"Redeemed ... with the precious blood of Christ."
(1 Peter 1,19)
1. Sing of him, the Lord, who
bought us with his blood,
and his name record, who
stemmed the mighty flood,
that which would have swept us
into hell's abyss;
sing of him who kept us
from a death like this. PDF - Midi
2. Full it is of wonder,
this his work of love.
'tis not here but yonder,
in his courts above,
all will be made known that
now mysterious is;
then his saints will own that
power and love are his.
3. Happy day, when he will
bring bis people near;
what they are to be, will
then to all appear;
"Sons of God" they are not
owned on earth or known;
scorned of men, they care not,
Christ will bless his own.
4. Good it is to drink of
Christ's own cup below.
This will make them think of
where they are to go,
there to be for ever,
with him where he is,
and to sorrow never,
there's a charm in this.
5. Better this, far better,
than the worldling's mirth:
sweeter, too, far sweeter,
than the joys of earth :
they who love their master,
will approve of this;
they will hold the faster,
to himself and his.
6. They will think more gladly,
of their home above;
they will part less sadly
with the friends they love,
in their walk more steady
while they live below;
and, when called, more ready
to their Lord to go.
7. Sing of him, and spare not,
join the blessèd throng;
sing of him, and care not,
who may blame your song.
Sing of him victorious,
Prophet, Priest, and King,
sing of him, for glorious
is the name we sing.
Thomas Kelly, Hymns on various passages of Scripture, ca. 1853, Hymn 210.