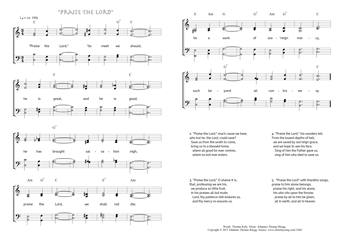 Christ My Song - 1268
"Praise the Lord," 'tis meet we should
(Thomas Kelly/Johannes Thomas Rüegg)
"Praise the Lord."
"Praise ye the Lord ." (Psalm 150,10)
1. "Praise the Lord," 'tis meet we should,
he is great, and he is good,
he has brought salvation nigh,
praise the Lord, we shall not die;
tis a work of sov'reign mercy,
such beyond all controversy. PDF - Midi
2. "Praise the Lord;" much cause we have,
who but he, the Lord, could save?
Save us from the wrath to come,
bring us to a blessèd home,
where all good for ever centres,
where no evil ever enters.
3. "Praise the Lord;" O shame it is,
that, professing we are his,
we produce so little fruit,
in his praises all but mute;
Lord, thy patience still endures us,
and thy mercy re-assures us.
4. "Praise the Lord;" his wonders tell.
From the lowest depths of hell,
we are saved by sov'reign grace,
and we hope to see his face.
Sing of him the Father gave us,
sing of him who died to save us.
5. "Praise the Lord" with thankful songs,
praise to him alone belongs;
praise his right, and his alone,
his who sits upon the throne;
praise by all to him be given,
all in earth, and all in heaven.
Thomas Kelly, Hymns on various passages of Scripture, ca. 1853, Hymn 211.