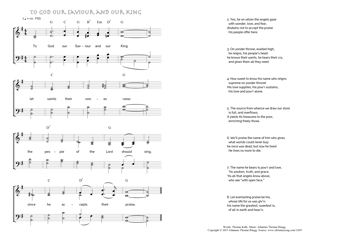 Christ My Song - 1269
To God our Saviour and our King
(Thomas Kelly/Johannes Thomas Rüegg)
To God our Saviour and our King.
"Praise him all ye people." (Psalm 117,1)
1. To God our Saviour and our King
let saints their voices raise:
the people of the Lord should sing,
since he accepts their praise. PDF - Midi
2. Yes, he on whom the angels gaze
with wonder, love, and fear,
disdains not to accept the praise
his people offer here.
3. On yonder throne, exalted high,
he reigns, his people's head:
he knows their wants, he hears their cry,
and gives them all they need.
4. How sweet to know his name who reigns
supreme on yonder throne!
His love supplies, his pow'r sustains,
his love and pow'r alone.
5. The source from whence we draw our store
is full, and overflows;
it yields its treasures to the poor,
enriching freely those.
6. We'll praise the name of him who gives
what worlds could never buy:
he once was dead, but now he lives!
He lives no more to die.
7. The name he bears is pow'r and love,
'tis wisdom, truth, and grace;
'tis all that angels know above,
who see "with open face."
8. Let everlasting praise be his,
whose life for us was giv'n:
his name the greatest, sweetest is,
of all in earth and heav'n.
Thomas Kelly, Hymns on various passages of Scripture, ca. 1853, Hymn 183.