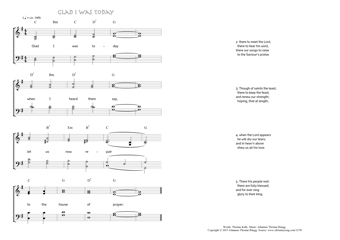 Christ My Song - 1270
Glad I was today
(Thomas Kelly/Johannes Thomas Rüegg)
Glad I was today.
"I was glad when they said unto me,
Let us go into the house of the Lord."
(Psalm 122,1)
1. Glad I was today
when I heard them say,
let us now repair
to the house of prayer; PDF - Midi
2. there to meet the Lord,
there to hear his word,
there our songs to raise
to the Saviour's praise.
3. Though of saints the least,
there to keep the feast,
and renew our strength;
hoping, that at length,
4. when the Lord appears
he will dry our tears;
and in heav'n above
shew us all his love.
5. There his people rest:
there are fully blessed;
and for ever sing
glory to their king.
Thomas Kelly, Hymns on various passages of Scripture, ca. 1853, Hymn 466.