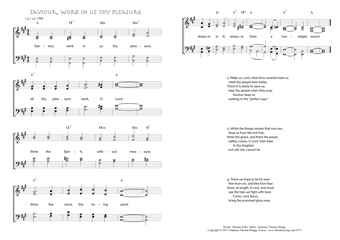 Christ My Song - 1271
Saviour, work in us thy pleasure
(Thomas Kelly/Johannes Thomas Rüegg)
Saviour, work in us thy pleasure.
"It is God which worketh in you both to will and to do." (Philippians 2,13)
1. Saviour, work in us thy pleasure,
all thy pleasure work, O Lord;
thine the Spirit, without measure,
thine the word, the living word;
sharper is it,
sharper than a two-edged sword. PDF - Midi
2. Make us, Lord, what thou wouldst have us
meet thy people here today.
Thine it is alone to save us;
hear thy people when they pray.
Saviour keep us
walking in the "perfect way."
3. While the things remain that now are,
keep us from the evil free;
thine the grace, and thine the power;
safety comes, O Lord, from thee.
In thy kingdom
evil will not, cannot be.
4. There we hope to be for ever,
free from sin, and free from fear;
there, at length, to rest, and never
see the foes we fight with here.
Come, Lord Jesus,
bring the promised glory near.
Thomas Kelly, Hymns on various passages of Scripture, ca. 1853, Hymn 407.