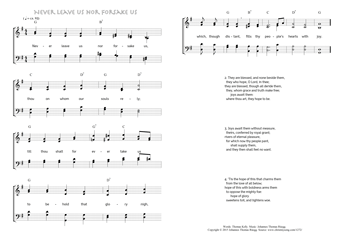 Christ My Song - 1272
Never leave us nor forsake us
(Thomas Kelly/Johannes Thomas Rüegg)
Never leave us nor forsake us.
"For he hath said, I will never leave thee." (Hebrews 13,5)
1. Never leave us nor forsake us,
thou on whom our souls rely;
till thou shalt for ever take us
to behold that glory nigh,
which, though distant,
fills thy people's hearts with joy. PDF - Midi
2. They are blessed, and none beside them,
they who hope, O Lord, in thee;
they are blessed, though all deride them,
they, whom grace and truth make free;
joys await them:
where thou art, they hope to be.
3. Joys await them without measure,
theirs, conferred by royal grant;
rivers of eternal pleasure,
for which now thy people pant,
shall supply them,
and they then shall feel no want.
4. 'Tis the hope of this that charms them
from the love of all below;
hope of this with boldness arms them
to oppose the mighty foe:
hope of glory
sweetens toil, and lightens woe.
Thomas Kelly, Hymns on various passages of Scripture, ca. 1853, Hymn 406.