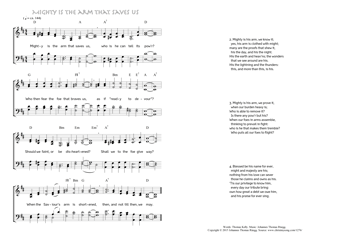 Christ My Song - 1276
Mighty is the arm that saves us
(Thomas Kelly/Johannes Thomas Rüegg)
Mighty is the arm that saves us.
"Mighty to save." (Isaiah 63,1)
1. Mighty is the arm that saves us,
who is he can tell its pow'r?
Who then fear the foe that braves us,
as if "ready to devour"?
Should we faint, or be disheartened?
Shall we to the foe give way?
When the Saviour's arm is shortened,
then, and not till then, we may. PDF - Midi
2. Mighty is his arm, we know it;
yes, his arm is clothed with might;
many are the proofs that shew it,
his the day, and his the night.
His the earth and heav'ns; the wonders
that we see around are his.
His the lightning and the thunders:
this, and more than this, is his.
3. Mighty is his arm, we prove it,
when our burden heavy is;
Who is able to remove it?
Is there any pow'r but his?
When our foes in arms assemble,
thinking to prevail in fight:
who is he that makes them tremble?
Who puts all our foes to flight?
4. Blessed be his name for ever,
might and majesty are his;
nothing from his love can sever
those he claims and owns as his.
'Tis our privilege to know him,
every day our tribute bring:
own how great a debt we owe him,
and his praise for ever sing.
Thomas Kelly, Hymns on various passages of Scripture, ca. 1853, Hymn 712.