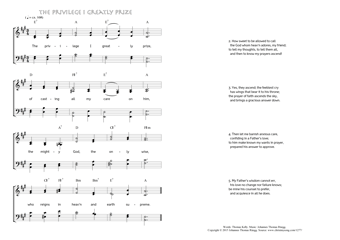 Christ My Song - 1277
The privilege I greatly prize
(Thomas Kelly/Johannes Thomas Rüegg)
The privilege I greatly prize.
"Casting all your care upon him." (1 Peter 5,7)
1. The privilege I greatly prize,
of casting all my care on him,
the mighty God, the only wise,
who reigns in heav'n and earth supreme. PDF - Midi
2. How sweet to be allowed to call
the God whom heav'n adores, my friend
to tell my thoughts, to tell them all,
and then to know my prayers ascend!
3. Yes, they ascend; the feeblest cry
has wings that bear it to his throne;
the prayer of faith ascends the sky,
and brings a gracious answer down.
4. Then let me banish anxious care,
confiding in a Father's love;
to him make known my wants in prayer,
prepared his answer to approve.
5. My Father's wisdom cannot err,
his love no change nor failure knows;
be mine his counsel to prefer,
and acquiesce in all he does.
Thomas Kelly, Hymns on various passages of Scripture, ca. 1853, Hymn 695.