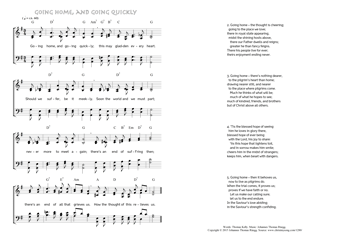 Christ My Song - 1280
Going home, and going quickly
(Thomas Kelly/Johannes Thomas Rüegg)
Going home, and going quickly.
"Strangers and pilgrims." (1 Peter 2,11)
1. Going home, and going quickly;
this may gladden every heart.
Should we suffer, be it meekly.
Soon the world and we must part;
never more to meet again;
there's an end of suff'ring then;
there's an end of all that grieves us.
How the thought of this relieves us. PDF - Midi
2. Going home – the thought is cheering;
going to the place we love;
there in royal state appearing,
midst the shining hosts above,
there our Father dwells and reigns;
greater he than fancy feigns.
There his people live for ever;
theirs enjoyment ending never.
3. Going home – there's nothing dearer,
to the pilgrim's heart than home;
drawing nearer still, and nearer
to the place where pilgrims come.
Much he thinks of what will be;
much of what he hopes to see;
much of kindred, friends, and brothers
but of Christ above all others.
4. 'Tis the blessed hope of seeing
him he loves in glory there,
blessed hope of ever being
with the Lord, his joy to share:
'tis this hope that lightens toil,
and in sorrow makes him smile;
cheers him in the midst of strangers;
keeps him, when beset with dangers.
5. Going home – then it behoves us,
now to live as pilgrims do.
When the trial comes, it proves us;
proves if we have faith or no.
Let us make our calling sure;
let us to the end endure.
In the Saviour's love abiding;
in the Saviour's strength confiding.
Thomas Kelly, Hymns on various passages of Scripture, ca. 1853, Hymn 634.