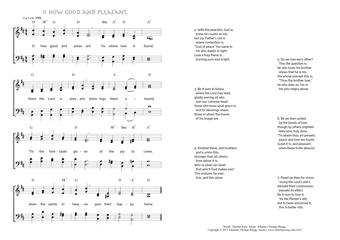 Christ My Song - 1281
O how good and pleasant
(Thomas Kelly/Johannes Thomas Rüegg)
O how good and pleasant.
"Beloved, let us love one another." (1 John 4,7)
1. O how good and pleasant
'tis where love is found;
there the Lord is present,
blessings there abound.
'Tis the foretaste given
of the joy to come,
when the saints in heaven
gain their happy home. PDF - Midi
2. With the peaceful, God is,
these he counts as his;
but our Father's rod is
where contention is.
"God of peace" his name is,
his who dwells in light.
Love a holy flame is,
burning pure and bright.
3. Be it ours to follow
where the Lord may lead;
gladly owning all who
own our common head:
those who know what grace is,
and its blessings share;
those in whom the traces
of his image are.
4. Kindred these, and brothers:
and a union this,
stronger than all others:
from above it is.
Who or what can sever
that which God makes one?
This endures for ever,
this, and this alone.
5. Do we love each other?
This the question is;
he who loves his brother,
shews that he is his.
His whose precept this is,
"Thou thy brother love,"
he who does so, his is:
his who reigns above.
6. Be we then united
by the bonds of love,
though by others slighted.
Welcome, holy dove.
'Tis where thou art present,
peace and love are found.
Good it is, and pleasant,
when these fruits abound.
7. Plead we then for union,
'mong the Lord's elect,
blessèd their communion,
blessèd its effect.
Be it ours to love it,
'tis the Master's will,
but to taste and prove it,
this is better still.
Thomas Kelly, Hymns on various passages of Scripture, ca. 1853, Hymn 761.