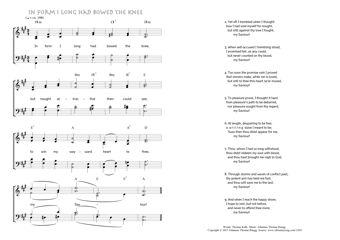 Christ My Song - 1284
In form I long had bowed the knee
(Thomas Kelly/Johannes Thomas Rüegg)
In form I long had bowed the knee.
"My Saviour." (2 Samuel 22,3)
1. In form I long had bowed the knee,
but nought attractive then could see,
to win my wayward heart to thee,
my Saviour! PDF - Midi
2. Yet oft I trembled when I thought
how I had sold myself for nought,
but still against thy love I fought,
my Saviour!
3. When self-accused I trembling stood,
I promised fair, as any could,
but never counted on thy blood,
my Saviour!
4. Too soon the promise vain I proved
that sinners make, while sin is loved,
but still to thee this heart ne'er moved,
my Saviour!
5. To pleasure prone, I thought it hard
from pleasure's path to be debarred,
nor pleasure sought from thy regard,
my Saviour!
6. At length, despairing to be free,
a willing slave I meant to be;
'twas then thou didst appear for me,
my Saviour!
7. Thou, whom I had so long withstood,
thou didst redeem my soul with blood,
and thou hast brought me nigh to God,
my Saviour!
8. Through storms and waves of conflict past,
thy potent arm has held me fast,
and thou wilt save me to the last,
my Saviour!
9. And when I reach the happy shore,
I hope to rest, but not before,
and never to offend thee more,
my Saviour!
Thomas Kelly, Hymns on various passages of Scripture, ca. 1853, Hymn 663.