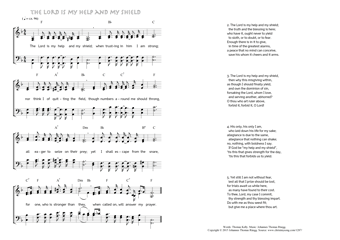 Christ My Song - 1287
The Lord is my help and my shield
(Thomas Kelly/Johannes Thomas Rüegg)
The Lord is my help and my shield.
"He is our help and our shield." (Psalm33,20)
1. The Lord is my help and my shield;
when trusting in him I am strong;
nor think I of quitting the field,
though numbers around me should throng,
all eager to seize on their prey;
yet I shall escape from the snare,
for one, who is stronger than they,
when called on, will answer my prayer. PDF - Midi
2. The Lord is my help and my shield;
the truth and the blessing is here;
who have it, ought never to yield
to sloth, or to doubt, or to fear.
Enough there is in it to give,
in time of the greatest alarms,
a peace that no mind can conceive,
save his whom it cheers and it arms.
3. The Lord is my help and my shield,
then why this misgiving within,
as though I should finally yield,
and own the dominion of sin,
forsaking the Lord, whom I love,
and serving another, abhorred?
O thou who art ruler above,
forbid it, forbid it, O Lord!
4. His only, his only I am,
who laid down his life for my sake;
allegiance is due to the same,
allegiance that nothing can shake;
no, nothing, with boldness I say.
If God be "my help and my shield",
'tis this that gives strength for the day,
'tis this that forbids us to yield.
5. Yet still I am not without fear,
lest all that I prize should be lost,
for trials await us while here,
as many have found to their cost.
To thee, Lord, my case I commit,
thy strength and thy blessing impart.
Do with me as thou seest fit;
but give me a place where thou art.
Thomas Kelly, Hymns on various passages of Scripture, ca. 1853, Hymn 732.