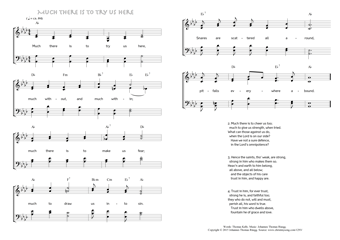 Christ My Song - 1293
Much there is to try us here
(Thomas Kelly/Johannes Thomas Rüegg)
Much there is to try us here.
"The Lord is on my side." (Psalm 118,6)
1. Much there is to try us here,
much without, and much within;
much there is to make us fear;
much to draw us into sin.
Snares are scattered all around,
pitfalls everywhere abound. PDF - Midi
2. Much there is to cheer us too;
much to give us strength, when tried.
What can those against us do,
when the Lord is on our side?
Have we not a sure defence,
in the Lord's omnipotence?
3. Hence the saints, tho' weak, are strong,
strong in him who makes them so.
Heav'n and earth to him belong,
all above, and all below;
and the objects of his care
trust in him, and happy are.
4. Trust in him, for ever trust,
strong he is, and faithful too;
they who do not, will and must,
perish all, his word is true.
Trust in him who dwells above,
fountain he of grace and love.
Thomas Kelly, Hymns on various passages of Scripture, ca. 1853, Hymn 739.