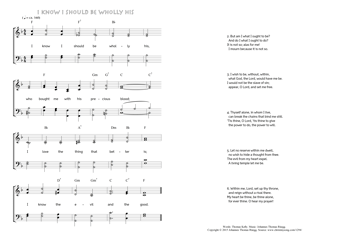 Christ My Song - 1294
I know I should be wholly his
(Thomas Kelly/Johannes Thomas Rüegg)
I know I should be wholly his.
"The spirit indeed is willing, but the flesh is weak."
(Matthew 26,41)
1. I know I should be wholly his,
who bought me with his precious blood;
I love the thing that better is;
I know the evil and the good. PDF - Midi
2. But am I what I ought to be?
And do I what I ought to do?
It is not so; alas for me!
I mourn because it is not so.
3. I wish to be, without, within,
what God, the Lord, would have me be.
I would not be the slave of sin;
appear, O Lord, and set me free.
4. Thyself alone, in whom I live,
can break the chains that bind me still.
'Tis thine, O Lord, 'tis thine to give
the power to do, the power to will.
5. Let no reserve within me dwell,
no wish to hide a thought from thee.
The evil from my heart expel.
A living temple let me be.
6. Within me, Lord, set up thy throne,
and reign without a rival there.
My heart be thine, be thine alone,
for ever thine. O hear my prayer!
Thomas Kelly, Hymns on various passages of Scripture, ca. 1853, Hymn 745.