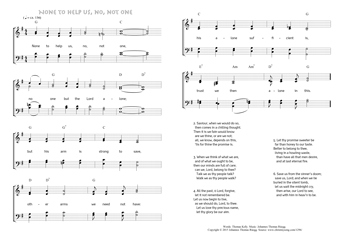 Christ My Song - 1296
None to help us, no, not one
(Thomas Kelly/Johannes Thomas Rüegg)
None to help us, no, not one.
"For there is none to help." (Psalm 22,11)
1. None to help us, no, not one,
no one but the Lord alone;
but his arm is strong to save,
other arms we need not have:
his alone sufficient is,
trust we then alone in this. PDF - Midi
2. Saviour, when we would do so,
then comes in a chilling thought.
Then it is we fain would know
are we thine, or are we not;
all, we know, depends on this,
'tis for thine the promise is.
3. When we think of what we are,
and of what we ought to be,
then our minds are full of care;
can we, Lord, belong to thee?
Talk we as thy people talk?
Walk we as thy people walk?
4. All the past, 0 Lord, forgive,
let it not remembered be.
Let us now begin to live,
as we should do, Lord, to thee.
Let us love thy precious name,
let thy glory be our aim.
5. Let thy promise sweeter be
far than honey to our taste.
Better to belong to thee,
living in a howling waste,
than have all that men desire,
and at last eternal fire.
6. Save us from the sinner's doom;
save us, Lord; and when we lie
buried in the silent tomb,
let us wait the midnight cry,
then arise, our Lord to see,
and with him in heav'n to be.
Thomas Kelly, Hymns on various passages of Scripture, ca. 1853, Hymn 740.