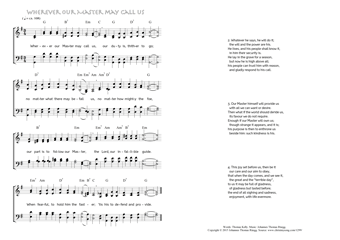 Christ My Song - 1299
Wherever our Master may call us
(Thomas Kelly/Johannes Thomas Rüegg)
Wherever our Master may call us.
"None of these things move me." (Acts 20,24)
1. Wherever our Master may call us,
our duty is, thither to go;
no matter what there may befall us,
no matter how mighty the foe,
our part is to follow our Master,
the Lord, our infallible guide.
When fearful, to hold him the faster;
'tis his to defend and provide. PDF - Midi
2. Whatever he says, he will do it;
the will and the power are his.
He lives, and his people shall know it,
in him their security is.
He lay in the grave for a season,
but now he is high above all;
his people can trust him with reason,
and gladly respond to his call.
3. Our Master himself will provide us
with all we can want or desire.
Then what if the world should deride us,
its favour we do not require.
Enough if our Master will own us;
though strange it appears, and it is;
his purpose is then to enthrone us
beside him: such kindness is his.
4. This joy set before us, then be it
our care and our aim to obey,
that when the day comes, and we see it,
the great and the "terrible day",
to us it may be full of gladness,
of gladness but tasted before;
the end of all sighing and sadness,
enjoyment, with life evermore.
Thomas Kelly, Hymns on various passages of Scripture, ca. 1853, Hymn 755.