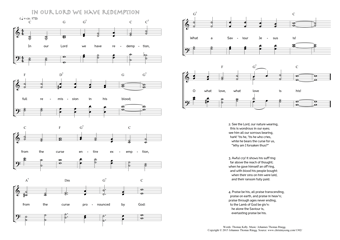 Christ My Song - 1302
In our Lord we have redemption
(Thomas Kelly/Johannes Thomas Rüegg)
In our Lord we have redemption.
"In whom we have redemption." (Colossians 1,14)
1. In our Lrd we have redemption,
full remission in his blood;
from the curse entire exemption,
from the curse pronounced by God:
What a Saviour Jesus is!
O what love, what love is his! PDF - Midi
2. See the Lord, our nature wearing,
this is wondrous in our eyes;
see him all our sorrows bearing,
hark! 'tis he, 'tis he who cries,
while he bears the curse for us,
"Why am I forsaken thus?"
3. Awful cry! it shows his suff'ring
far above the reach of thought;
when he gave himself an off'ring,
and with blood his people bought:
when their sins on him were laid,
and their ransom fully paid.
4. Praise be his, all praise transcending,
praise on earth, and praise in heav'n;
praise through ages never ending,
to the Lamb of God be giv'n:
he alone the Saviour is,
everlasting praise be his.
Thomas Kelly, Hymns on various passages of Scripture, ca. 1853, Hymn 657.