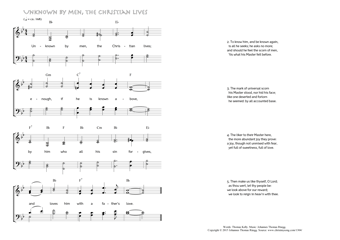 Christ My Song - 1304
Unknown by men, the Christian lives
(Thomas Kelly/Johannes Thomas Rüegg)
Unknown by men, the Christian lives.
"Therefore the world knoweth us not." (1 John 3,1)
1. Unknown by men, the Christian lives;
enough, if he is known above,
by him who all his sin forgives,
and loves him with a father's love. PDF - Midi
2. To know him, and be known again,
is all he seeks; he asks no more;
and should he feel the scorn of men,
'tis what his Master felt before.
3. The mark of universal scorn
his Master stood, nor hid his face;
like one deserted and forlorn
he seemed: by all accounted base.
4. The liker to their Master here,
the more abundant joy they prove:
a joy, though not unmixed with fear,
yet full of sweetness, full of love.
5. Then make us like thyself, O Lord;
as thou wert, let thy people be:
we look above for our reward;
we look to reign in heav'n with thee.
Thomas Kelly, Hymns on various passages of Scripture, ca. 1853, Hymn 706.