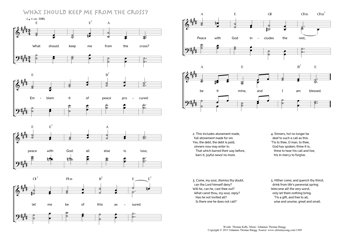 Christ My Song - 1309
What should keep me from the cross?
(Thomas Kelly/Johannes Thomas Rüegg)
What should keep me from the cross?
"Having made peace through the blood of his cross." (Colossians 1,20)
1. What should keep me from the cross?
Emblem it of peace procured:
peace with God: all else is loss;
let me he of this assured.
Peace with God includes the rest,
be it mine, and I am blessed. PDF - Midi
2. This includes atonement made,
full atonement made for sin.
Yes, the debt, the debt is paid,
sinners now may enter in.
That which barred their way before,
bars it, joyful news! no more.
3. Come, my soul, dismiss thy doubt,
can the Lord himself deny?
Will he, can he, cast thee out?
What canst thou, my soul, reply?
Has he not invited all?
Is there one he does not call?
4. Sinners, ho! no longer be
deaf to such a call as this.
'Tis to thee, O man, to thee,
God has spoken; thine it is,
thine to hear his call and live,
his in mercy to forgive.
5. Hither come, and quench thy thirst;
drink from life's perennial spring.
Welcome all! the very worst,
only let them nothing bring.
'Tis a gift, and free to all,
wise and unwise, great and small.
Thomas Kelly, Hymns on various passages of Scripture, ca. 1853, Hymn 730.