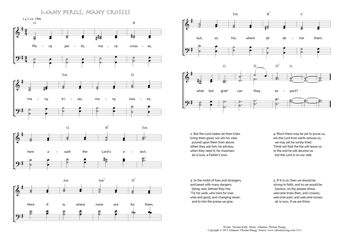 Christ My Song - 1311
Many perils, many crosses
(Thomas Kelly/Johannes Thomas Rüegg)
Many perils, many crosses.
"Dying, and behold we live." (2 Corinthians 6,9)
1. Many perils, many crosses,
many trials, many losses,
here await the Lord's elect.
Here it is, where none are for them,
but, as his, where all abhor them,
what but grief can they expect? PDF - Midi
2. But the Lord makes all their trials
bring them good, nor are his vials
poured upon them from above.
When they ask him, he advises;
when they need it, he chastises:
all is love, a Father's love.
3. In the midst of foes and strangers,
and beset with many dangers,
dying, and, behold they live.
'Tis his work, who lives for ever,
wise and good, and changing never;
and to him the praise we give.
4. Much there may be yet to prove us,
ere the Lord from earth remove us,
we may yet be sorely tried.
Think not that the foe will leave us,
to the end he will deceive us:
but the Lord is on our side.
5. If it is so, then we should be
strong in faith, and so we would be,
Saviour, on thy people shine;
welcome trials then, and crosses;
welcome pain, and welcome losses:
all is ours, if we are thine.
Thomas Kelly, Hymns on various passages of Scripture, ca. 1853, Hymn 754.