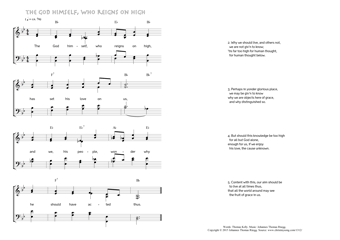 Christ My Song - 1312
The God himself, who reigns on high
(Thomas Kelly/Johannes Thomas Rüegg)
The God himself, who reigns on high.
"I have loved thee." (Jeremiah 31,3)
1. The God himself, who reigns on high,
has set his love on us,
and we, his people, wonder why
he should have acted thus. PDF - Midi
2. Why we should live, and others not,
we are not giv'n to know;
'tis far too high for human thought,
for human thought below.
3. Perhaps in yonder glorious place,
we may be giv'n to know
why we are objects here of grace,
and why distinguished so.
4. But should this knowledge be too high
for all but God alone,
enough for us, if we enjoy
his love, the cause unknown.
5. Content with this, our aim should be
to live at all times thus,
that all the world around may see
the fruit of grace in us.
Thomas Kelly, Hymns on various passages of Scripture, ca. 1853, Hymn 627.