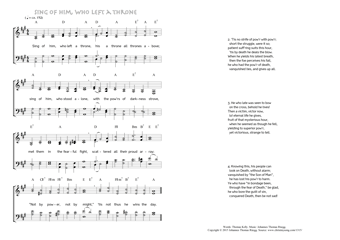 Christ My Song - 1315
Sing of him, who left a throne
(Thomas Kelly/Johannes Thomas Rüegg)
Sing of him, who left a throne.
"That he might destroy him that had the power of death."
(Hebrews 2,14)
1. Sing of him, who left a throne,
his a throne all thrones above;
sing of him, who stood alone,
with the pow'rs of darkness strove,
met them in the fearful fight,
scattered all their proud array;
"Not by power, not by might,"
'tis not thus he wins the day. PDF - Midi
2. 'Tis no strife of pow'r with pow'r;
short the struggle, were it so;
patient suff'ring suits this hour,
'tis by death he deals the blow.
When he yields his latest breath,
then the foe perceives his fall,
he who had the pow'r of death,
vanquished lies, and gives up all.
3. He who late was seen to bow
on the cross, behold he lives!
Then a victim, victor now,
lo! eternal life he gives,
fruit of that mysterious hour,
when he seemed as though he fell,
yielding to superior pow'r,
yet victorious, strange to tell.
4. Knowing this, his people can
look on Death, without alarm;
vanquished by "the Son of Man",
he has lost his pow'r to harm.
Ye who have "in bondage been,
through the fear of Death," be glad,
he who bore the guilt of sin,
conquered Death, then be not sad!
Thomas Kelly, Hymns on various passages of Scripture, ca. 1853, Hymn 213.