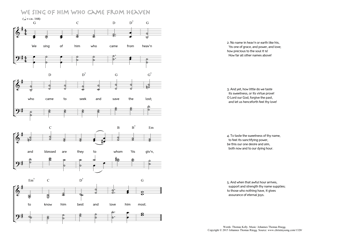 Christ My Song - 1320
We sing of him who came from heav'n
(Thomas Kelly/Johannes Thomas Rüegg)
We sing of him who came from heaven.
"Sing unto the Lord, bless his name." (Psalm 96,2)
1. We sing of him who came from heav'n,
who came to seek and save the lost;
and blessed are they to whom 'tis giv'n,
to know him best and love him most. PDF - Midi
2. No name in heav'n or earth like his,
'tis one of grace, and power, and love;
how precious to the soul it is!
How far all other names above!
3. And yet, how little do we taste
its sweetness, or its virtue prove!
O Lord our God, forgive the past,
and let us henceforth feel thy love!
4. To taste the sweetness of thy name,
to feel its sanctifying power,
be this our one desire and aim,
both now and to our dying hour.
5. And when that awful hour arrives,
support and strength thy name supplies;
to those who nothing have, it gives
assurance of eternal joys.
Thomas Kelly, Hymns on various passages of Scripture, ca. 1853, Hymn 205.