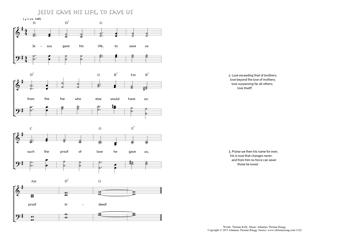 Christ My Song - 1322
Jesus gave his life, to save us
(Thomas Kelly/Johannes Thomas Rüegg)
Jesus gave his life, to save us.
"The love of Christ, which passeth knowledge."
(Ephesians 3,19)
1. Jesus gave his life, to save us
from the foe who else would have us:
such the proof of love he gave us,
proof indeed! PDF - Midi
2. Love exceeding that of brothers;
love beyond the love of mothers;
love surpassing far all others;
love itself!
3. Praise we then his name for ever;
his is love that changes never;
and from him no force can sever
those he loves!
Thomas Kelly, Hymns on various passages of Scripture, ca. 1853, Hymn 203.