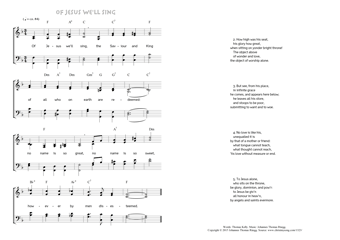 Christ My Song - 1323
Of Jesus we'll sing
(Thomas Kelly/Johannes Thomas Rüegg)
Of Jesus we'll sing.
"Him hath God exalted ... to be a Prince and a Saviour."
(Acts 5,31)
1. Of Jesus we'll sing,
the Saviour and King
of all who on earth are redeemed:
no name is so great,
no name is so sweet,
however by men disesteemed. PDF - Midi
2. How high was his seat,
his glory how great,
when sitting on yonder bright throne!
The object above
of wonder and love,
the object of worship alone.
3. But see, from his place,
in infinite grace
he comes, and appears here below;
he leaves all his store,
and stoops to be poor,
submitting to want and to woe.
4. No love is like his,
unequalled it is
by that of a mother or friend:
what tongue cannot teach,
what thought cannot reach,
'tis love without measure or end.
5. To Jesus alone,
who sits on the throne,
be glory, dominion, and pow'r:
to Jesus be giv'n
all honour in heav'n,
by angels and saints evermore.
Thomas Kelly, Hymns on various passages of Scripture, ca. 1853, Hymn 190.