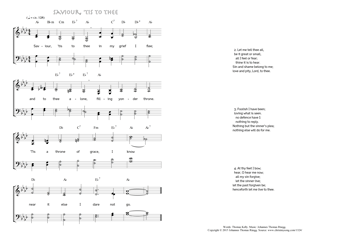 Christ My Song - 1324
Saviour, 'tis to thee
(Thomas Kelly/Johannes Thomas Rüegg)
Saviour, 'tis to thee.
"I acknowledged my sin unto thee." (Psalm 32,5)
1. Saviour, 'tis to thee
in my grief I flee;
and to thee alone,
filling yonder throne.
'Tis a throne of grace, I know ;
near it else I dare not go. PDF - Midi
2. Let me tell thee all,
be it great or small,
all I feel or fear;
thine it is to hear.
Sin and shame belong to me;
love and pity, Lord, to thee.
3. Foolish I have been;
loving what is seen.
no defence have I:
nothing to reply.
Nothing but the sinner's plea;
nothing else will do for me.
4. At thy feet I bow;
hear, O hear me now;
all my sin forgive;
let the sinner live;
let the past forgiven be;
henceforth let me live to thee.
Thomas Kelly, Hymns on various passages of Scripture, ca. 1853, Hymn 175.