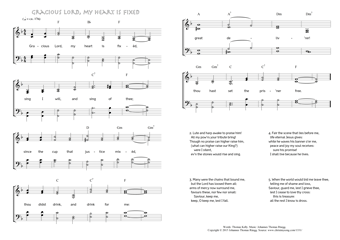 Christ My Song - 1331
Gracious Lord, my heart is fixèd
(Thomas Kelly/Johannes Thomas Rüegg)
Gracious Lord, my heart is fixed.
"O God, my heart is fixed; I will sing and give praise."
(Psalm 108,1)
1. Gracious Lord, my heart is fixèd,
sing I will, and sing of thee;
since the cup that justice mixèd,
thou didst drink, and drink for me:
great deliv'rer!
thou hast set the pris'ner free. PDF - Midi
2. Lute and harp awake to praise him!
All my pow'rs your tribute bring!
Though no praise can higher raise him,
(what can higher raise our King?)
were I silent,
ev'n the stones would rise and sing.
3. Many were the chains that bound me,
but the Lord has loosed them all:
arms of mercy now surround me,
favours these, nor few nor small:
Saviour, keep me,
keep, O keep me, lest I fall.
4. Fair the scene that lies before me,
life eternal Jesus gives:
while he waves his banner o'er me,
peace and joy my soul receives:
sure his promise!
I shall live because he lives.
5. When the world would bid me leave thee,
telling me of shame and loss,
Saviour, guard me, lest I grieve thee,
lest I cease to love thy cross:
this is treasure:
all the rest I know is dross.
Thomas Kelly, Hymns on various passages of Scripture, ca. 1853, Hymn 191.