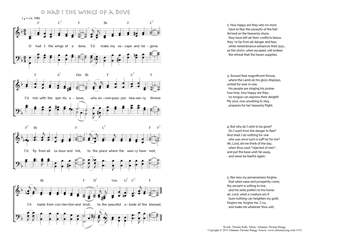 Christ My Song - 1332
O had I the wings of a dove
(Thomas Kelly/Johannes Thomas Rüegg)
O had I the wings of a dove.
"And I said, O that I had wings like a dove!" (Psalm 55,6)
1. O had I the wings of a dove,
I'd make my escape and begone;
I'd mix with the spirits above,
who encompass yon heavenly throne:
I'd fly from all labour and toil,
to the place where the weary have rest;
I'd haste from contention and broil,
to the peaceful abode of the blessed. PDF - Midi
2. How happy are they who no more
have to fear the assaults of the foe!
Arrived on the heavenly shore,
they have left all their conflicts below:
they 're far from all danger and fear,
while remembrance enhances their joys,
as the storm, when escaped, will endear
the retreat that the haven supplies.
3. Around that magnificent throne,
where the Lamb all his glory displays,
united for ever in one,
his people are singing his praise:
how holy, how happy are they,
no tongue can express their delight!
My soul, now unwilling to stay,
prepares for her heavenly flight.
4. But why do I wish to be gone?
Do I want from the danger to flee?
And shall I do nothing for one
who was once such a suff'rer for me?
Ah, Lord, let me think of the day,
when thou wast "rejected of men",
and put the base wish far away,
and never be fearful again.
5. Nor less my perverseness forgive,
that when ease and prosperity come,
thy servant is willing to live,
and his exile prefers to his home:
ah, Lord, what a creature am I!
Sure nothing can heighten my guilt;
forgive me, forgive me, I cry,
and make me whatever thou wilt.
Thomas Kelly, Hymns on various passages of Scripture, ca. 1853, Hymn 115.
(2,5 orig.: they are far from all danger and fear,)