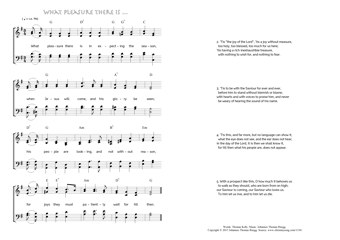 Christ My Song - 1336
What pleasure there is in expecting the season
(Thomas Kelly/Johannes Thomas Rüegg)
What pleasure there is in expecting the season.
"Enter thou into the joy of thy Lord." (Matthew 25,21)
1. What pleasure there is in expecting the season,
when Jesus will come, and his glory be seen;
his people are looking, and not without reason,
for joys they must patiently wait for till then. PDF - Midi
2. 'Tis "the joy of the Lord", 'tis a joy without measure,
too holy, too blessed, too much for us here;
'tis having a rich inexhaustible treasure,
with nothing to wish for, and nothing to fear.
3. 'Tis to be with the Saviour for ever and ever,
before him to stand without blemish or blame;
with hearts and with voices to praise him, and never
be weary of hearing the sound of his name.
4. 'Tis this, and far more, but no language can show it,
what the eye does not see, and the ear does not hear;
in the day of the Lord, it is then we shall know it,
for till then what his people are, does not appear.
5. With a prospect like this, O how much it behoves us
to walk as they should, who are born from on high;
our Saviour is coming, our Saviour who loves us.
To him let us live, and to him let us die.
Thomas Kelly, Hymns on various passages of Scripture, ca. 1853, Hymn 94.