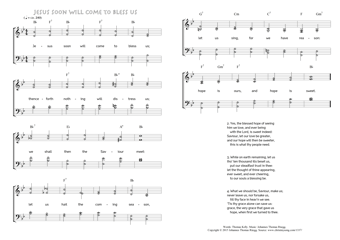 Christ My Song - 1337
Jesus soon will come to bless us
(Thomas Kelly/Johannes Thomas Rüegg)
Jesus soon will come to bless us.
"Surely I come quickly." (Revelation 22,20)
1. Jesus soon will come to bless us;
thenceforth nothing will distress us;
we shall then the Saviour meet:
let us hail the coming season,
let us sing, for we have reason:
hope is ours, and hope is sweet. PDF - Midi
2. Yes, the blessed hope of seeing
him we love, and ever being
with the Lord, is sweet indeed:
Saviour, let our love be greater,
and our hope will then be sweeter,
this is what thy people need.
3. While on earth remaining, let us
tho' ten thousand ills beset us,
put our steadfast trust in thee:
let the thought of thine appearing,
ever sweet, and ever cheering,
to our souls a blessing be.
4. What we should be, Saviour, make us;
never leave us, nor forsake us,
till thy face in heav'n we see.
'Tis thy grace alone can save us:
grace, the very grace that gave us
hope, when first we turned to thee.
Thomas Kelly, Hymns on various passages of Scripture, ca. 1853, Hymn 93.