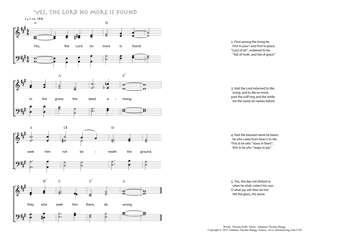 Christ My Song - 1338
Yes, the Lord no more is found
(Thomas Kelly/Johannes Thomas Rüegg)
Yes, the Lord no more is found.
"Why seek ye the living among the dead?" (Luke 24,5)
1. Yes, the Lord no more is found
in the grave, the dead among;
seek him not beneath the ground;
they who seek him there, do wrong. PDF - Midi
2. First among the living he,
first in pow'r and first in place;
"Lord of all", ordained to be:
"full of truth, and full of grace".
3. Hail the Lord returned to life;
living, and to die no more;
past the suff'ring and the strife;
his the name all names before.
4. Hail the blessed name he bears;
he who came from heav'n to die.
This is he who "sows in tears";
this is he who "reaps in joy".
5. Yes, the day not distant is
when he shall collect his own.
O what joy will then be his!
His the glory, his alone.
Thomas Kelly, Hymns on various passages of Scripture, ca. 1853, Hymn 33.