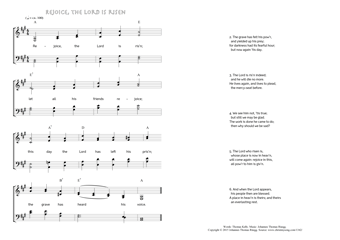 Christ My Song - 1342
Rejoice, the Lord is risen
(Thomas Kelly/Johannes Thomas Rüegg)
Rejoice, the Lord is risen.
"And your joy no man taketh from you." (John 16,22)
1. Rejoice, the Lord is ris'n;
let all his friends rejoice;
this day the Lord has left his pris'n;
the grave has heard his voice. PDF - Midi
2. The grave has felt his pow'r,
and yielded up his prey;
for darkness had its fearful hour;
but now again 'tis day.
3. The Lord is ris'n indeed;
and he will die no more.
He lives again, and lives to plead,
the mercy-seat before.
4. We see him not, 'tis true;
but still we may be glad.
The work is done he came to do;
then why should we be sad?
5. The Lord who risen is,
whose place is now in heav'n,
will come again: rejoice in this,
all pow'r to him is giv'n.
6. And when the Lord appears,
his people then are blessed.
A place in heav'n is theirs; and theirs
an everlasting rest.
Thomas Kelly, Hymns on various passages of Scripture, ca. 1853, Hymn 30.