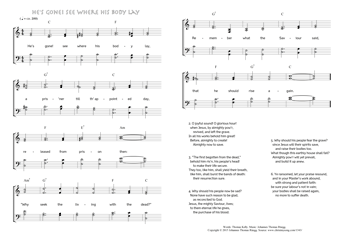 Christ My Song - 1343
He's gone! see where his body lay
(Thomas Kelly/Johannes Thomas Rüegg)
He's gone! see where his body lay.
"He is not here: for he is risen, as he said." (Matthew 28,6)
1. He's gone! see where his body lay,
a pris'ner till th' appointed day,
released from prison then:
"Why seek the living with the dead?"
Remember what the Saviour said,
that he should rise again. PDF - Midi
2. O joyful sound! O glorious hour!
when Jesus, by almighty pow'r,
revived, and left the grave.
In all his works behold him great!
Before, almighty to create!
Almighty now to save.
3. "The first begotten from the dead,"
behold him ris'n, his people's head!
to make their life secure.
They too, like him, shall yield their breath,
like him, shall burst the bands of death:
their resurrection sure.
4. Why should his people now be sad?
None have such reason to be glad.
as reconciled to God.
Jesus, the mighty Saviour, lives;
to them eternal life he gives,
the purchase of his blood.
5. Why should his people fear the grave?
since Jesus will their spirits save,
and raise their bodies too.
What though this earthly house shall fail?
Almighty pow'r will yet prevail,
and build it up anew.
6. Ye ransomed, let your praise resound,
and in your Master's work abound,
with strong and patient faith:
be sure your labour's not in vain;
your bodies shall be raised again,
no more to suffer death.
Thomas Kelly, Hymns on various passages of Scripture, ca. 1853, Hymn 32.